Overview
Walking safaris are bush walks in the company of a game ranger through big game country. There is nothing to compare with the excitement of walking through the bush - never knowing what you may encounter. But walking safaris in Botswana are not arduous hikes, but rather gentle explorations of the bush.
Botswana offers some stunning walking safari terrain such as the Okavango Delta, the Selinda and Kwando concessions of the Linyanti and Mashatu Game Reserve in southern Botswana.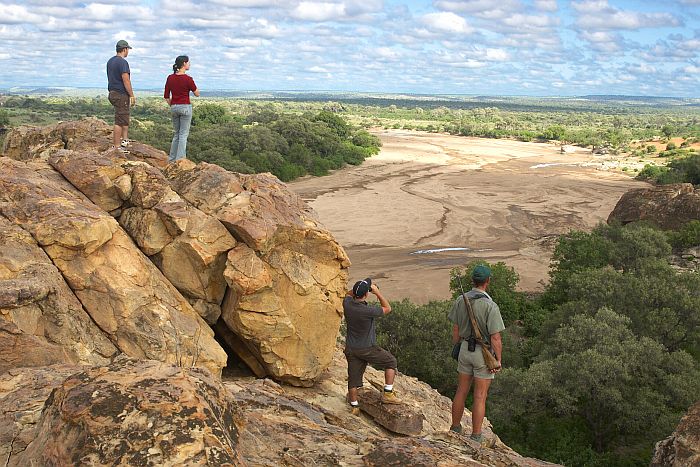 The terrain of the Okavango Delta lends itself to walking safaris, especially during the peak flood months. Then you can go by boat to one of the Delta islands. Typically you walk - with a ranger in front and tracker behind - on these islands or along the river banks. It's not a strenuous walking experience. But general fitness certainly will add to your enjoyment, especially during the hotter months of March, April and September.
Footsteps Camp is a permanent bush camp in the Shinde Concession of the Okavango Delta. It focuses solely on walking safaris. You can book it on an exclusive basis for up to 6 people. See our Footsteps walking safari.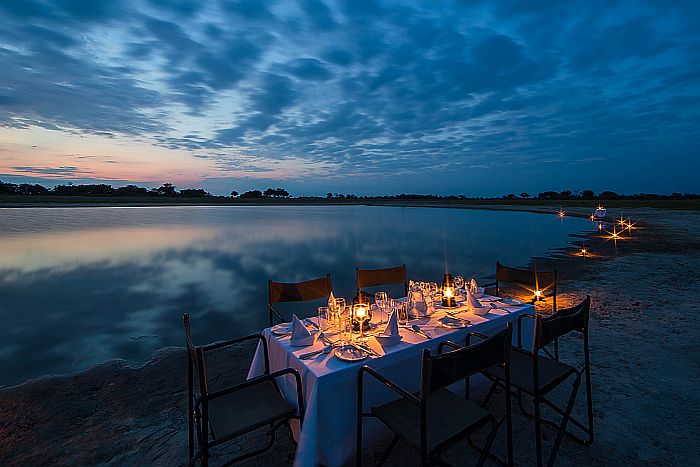 Best time for walking safaris in Botswana (or any other country)
The ideal time for a walking safari is probably May to mid-September. From May to August, it will be cool in the mornings but you'll be able to walk in comfort for hours. It starts to heat up in September. In our opinion October is too hot for anything longer than a short early morning bush walk.
Highlights
Opportunity to observe the game at close quarters.
Gain fascinating insights into the ways of the wild. Your ranger may explain the way in which the bark of a tree can be used as a toothbrush. Or the leaves of another can be distilled to make a formidable alcoholic drink!
However, it is always possible to come upon a herd of buffalo or rhino. So a walking safari can be an exhilarating adventure!
You feel at one with the wilderness.
Your prices better than the bigger companies
"Brian came home with your attractive brochure and we started looking at possibilities. We both thought Cedarberg would be too expensive for us but were pleasantly surprised to find your prices better than the bigger companies. The itinerary you gave us went totally to plan. All our airport pickups and transfers went smoothly and local drivers were friendly and informative. We also appreciated all the phone conversations and help you gave at Cedarberg before we went and were delighted with the program you put together for us. "
Dale Family, UK
High satisfaction with Cedarberg
"We just returned from our third African safari booked with Milandi. I cannot say enough about our high satisfaction with Cedarberg and, particularly, Milandi. Milandi has always worked with us, making recommendations based on our preferences, and together we "tweak" the itinerary until it is perfect for us. Milandi is efficient, highly responsive, knowledgeable, friendly, and seems to really care and act excited about our booked adventure. Each time we have traveled, all arrangements have been punctual and without any delays or cancellations. Every detail has been prearranged. During our most recent trip, Milandi even checked us in for each of our domestic and intercontinental flights, knowing that we would not have the capability to do so from the camps we visited. Cannot recommend Milandi highly enough!! "
Mrs Shirley Spain
Excellent bespoke itineraries
"Milandi puts together excellent bespoke itineraries, is proactive and provides excellent customer service "
Mrs Jessie, UK
Hi I'm Natasha, I'm here to help you plan your ideal holiday experience
A varied and fantastic holiday that we will never forget
"Milandi interpreted all our needs perfectly and the tailor-made holiday was way beyond our expectations. As a first time visitor to South Africa, we were quite apprehensive about safety, but all the places chosen for us to stay in were comfortable and hospitable. "
Mr Andrew Thompson
Exactly what we wanted
"The services Cedarberg provided was excellent. We had a few hiccups and needed to change the itinerary a couple of times but Cedarberg was very quick to respond to our needs and helped us out very quickly. All the accommodations were excellent and suited us perfectly for what we wanted and doing at that time. "
Mrs Kim Swain
Wonderfully professional, yet absolutely approachable
"Bookings made to your perfect itinerary, with ease. No stress, just marvellous conversations about what you would like to see and do. Really really knowledgable consultants. And when they have sorted your dream itinerary, they follow up with lots of help and advice. We have always felt totally relaxed and looked after during our adventures in Africa. Cedarberg take care of everything. "
Mrs & Mr Birchall, UK