Overview
Walking safaris in Zambia were pioneered in South Luangwa National Park and it still sets the pace. However, you can also enjoy safaris on foot in the Lower Zambezi, North Luangwa and Kafue.
But what do we mean by a walking safari, and is it always 'hard core'?
The great things about Zambia is that you can decide how much walking you wish to do. At some camps, a guided walk is always an option. So you can opt to do a morning bush walk instead of a game drive. Or you can book a more dedicated walking safari staying at simple fly-camps over a few nights. These have set departures and are very popular. Or you can tailor-make the perfect experience that's right for you. The choice is yours…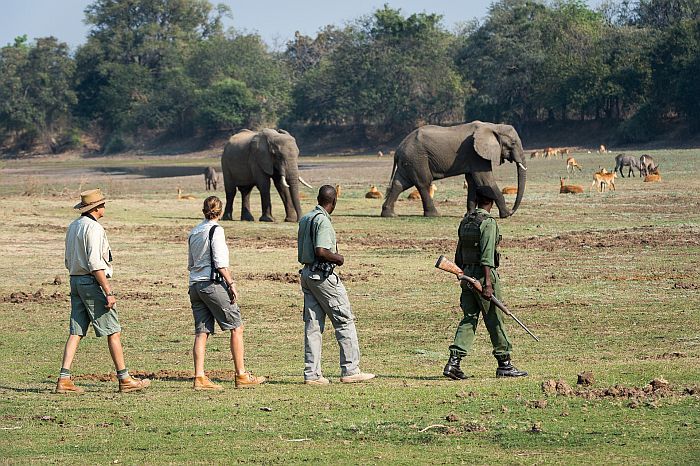 Walking Safaris at a Bush Camp
So another option is to stay at a bush camp in the South Luangwa which specializes in walking safaris, such as Bilimungwe Camp or Nsefu Camp.
Ideally, you split your time between two or three of these bush camps to enjoy the different terrain. This in turn attracts diverse wildlife. Sometimes you can even walk between bush camps. For example from Luwi to Nsolo Camp, or Chindeni to Chamilandu Camp. We recommend adding a couple of nights at a 3rd lodge focused on game drives. This'll give you a well-rounded safari experience.
In the Lower Zambezi, Old Mondoro and Chiawa Camp also do plenty of walking safaris.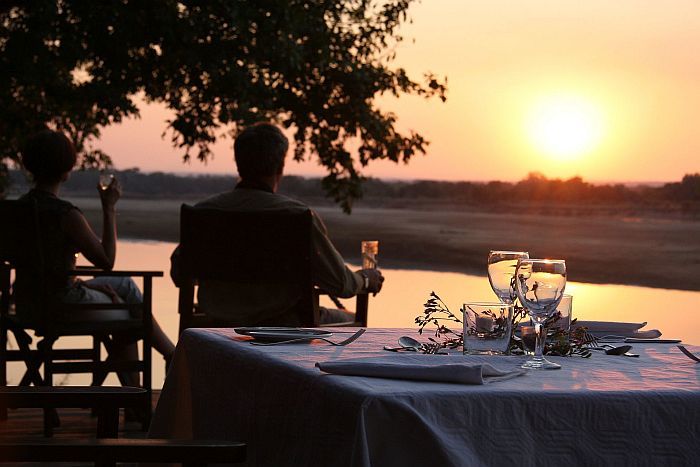 What's the best time for a walking safari in Zambia?
The ideal time for Zambia walking safaris is probably June to mid September. In June and July it will be cool in the mornings but you'll be able to walk in comfort for hours. By mid September, it's warming up fast.
Highlights
Many options for walking in Zambia: enjoy a bush walk at a traditional lodge, stay at remote bush camps focused solely on walking or join a specialist walking safari.
Many remote bush camps are centred on walking, sometimes from one camp to another.
We have some set departure walking safaris staying in fly camps and walking each day.
You are accompanied by some of the finest guides in Africa.
Seamless and amazing
"Thank you so much, we have returned and we had the best, best, best time! Thank you so much it was seamless and amazing, I would use Cedarberg again. Thank you Maddy! "
Mr Ben Cunningham, USA
Your prices better than the bigger companies
"Brian came home with your attractive brochure and we started looking at possibilities. We both thought Cedarberg would be too expensive for us but were pleasantly surprised to find your prices better than the bigger companies. The itinerary you gave us went totally to plan. All our airport pickups and transfers went smoothly and local drivers were friendly and informative. We also appreciated all the phone conversations and help you gave at Cedarberg before we went and were delighted with the program you put together for us. "
Dale Family, UK
I am so glas we used this travel agency!
"I am so grateful to Conrad and Cedarberg Africa for helping us have the trip of a lifetime to South Africa! "
Mrs Sylvia & Family
Hi I'm Tasha, I'm here to help you plan your ideal holiday experience
Incredibly well organised
"Everything was incredibly well organised and left nothing wanting. We did not see all of the animals that we had hoped for but the experience we had was so much more than that. Hopefully we will return to Africa one day – maybe Namibia / Botswana next time. Thank you so much for organising everything for us it is very much appreciated. "
Mr James Coleman
Mr Guy Crabb - Ginny
"Ginny listened to what we wanted and delivered an itinerary that pretty much blew us away. "
Mr Guy Crabb
Exceeded all expectations
"Cedarberg was professional, responsive, and personable. All flights, all transfers, all accommodation, all activities, and the safari itself went exactly to plan. The experience, end-to-end, exceeded all expectations. "
Mr Michael Barnard